The Atlantic analyst to media, critics: Coronavirus pandemic has proven Trump right about China and multilateral orgs  — I'm not naive enough to think that the deranged Left will let up on their Trump-hatred, even if it meant the country being destroyed.  But is it possible that more middle ground people are seeing that Trump was right about China all along?  And we haven't even gotten to the border protection discussion.  What fool would oppose border controls now?!
Don't forget that China was proclaiming that they had the outbreak under control at the same time it was hoarding PPE, and offered false data that no doubt kept prices for these goods relatively low for a few weeks
---
Globa Health Security Index — Imagine that, in late 2019 the U.S. was ranked as the top country in the world with respect to dealing with a pandemic.  Has the media mentioned this?  Have the Democrats acknowledged it?  Trump doesn't get all the credit, as much of this was obviously in place before his tenure.  But it does show how ridiculous it is to blame him for the U.S. not being prepared for this.  And note that it wasn't some conservative think-tank that come up with this:
To create the GHS Index, NTI, JHU, and the EIU project team—with generous grants from the Open Philanthropy Project, the Bill & Melinda Gates Foundation, and the Robertson Foundation—worked with an international advisory panel of 21 experts from 13 countries to create a detailed and comprehensive framework of 140 questions, organized across 6 categories, 34 indicators, and 85 subindicators to assess a country's capability to prevent and mitigate epidemics and pandemics.
---
Enjoy this 1.5 minute segment.  It is one of the many reasons I like Trump and loathe the media and the Democratic party.  They like this pandemic and they choreographed Biden's fact-free Tweet and the reporter's question because they savor the opportunity to harm Trump.  But he calls it what it is, uses it to point out what everyone really knows (that Biden is lost and confused and just lamely trying to read what the Dems script for him) and reminds them that even Biden had to admit that Trump was right about canceling flights from China.
---
The Economist calls it 'striking' that the media has greeted with silence the latest #MeToo claim against Joe Biden — Striking . . . and predictable.  Such hypocrites.  They are not only doing the opposite of their "believe all women!!" mantra, but they aren't even acknowledging it at all.  It shows they haven't changed a bit since the Bill Clinton years — even though they recently pretended that they should have reacted differently then.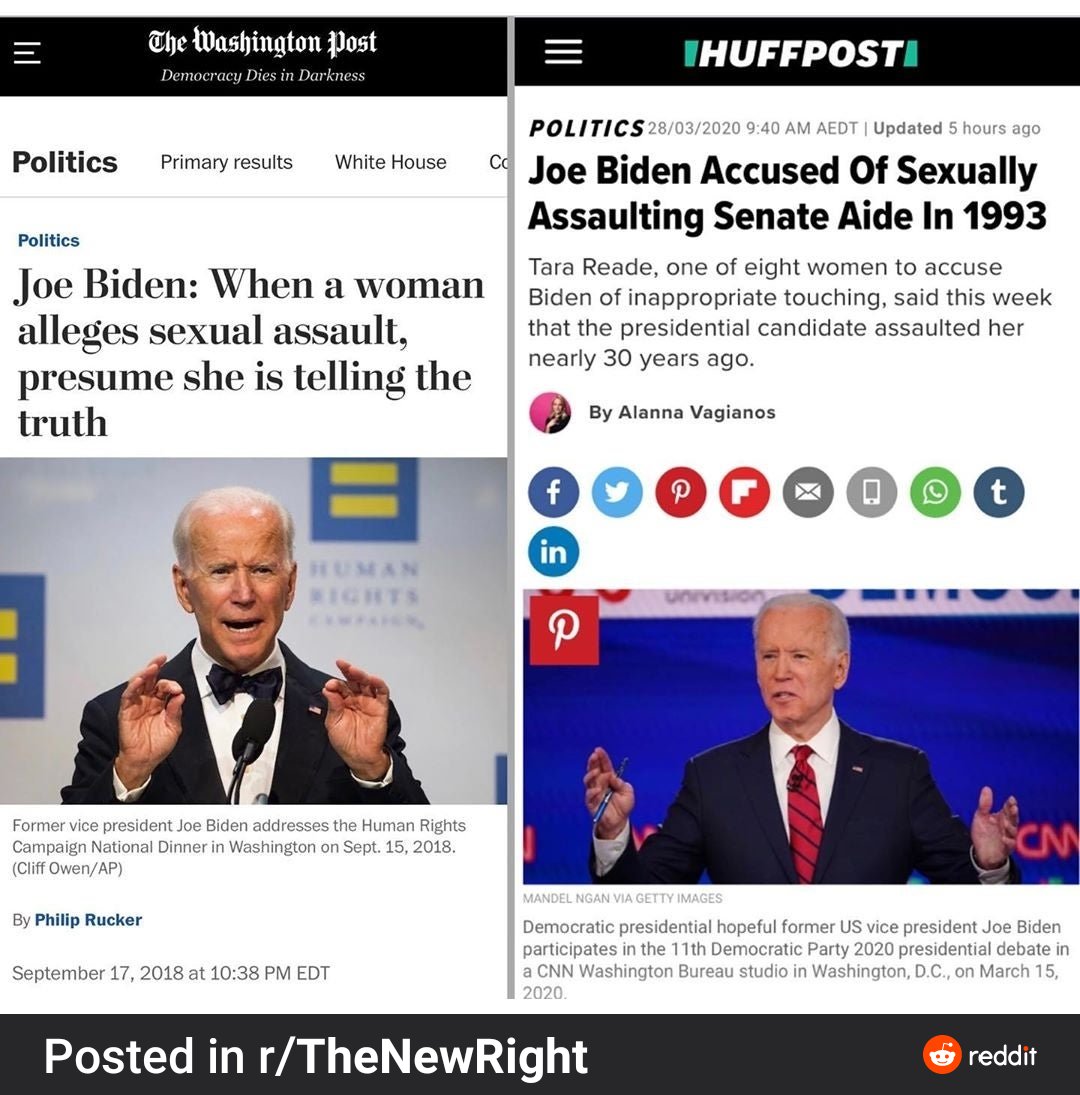 Trump noted that when you are wildly popular women may let you grab them by the pu$$y and the Left lost their minds (it is obviously consensual if they let you do it).
But Biden has been credibly accused of literally grabbing Reade's pu$$y against her will and the Left is silent.
Bonus "pass the popcorn" link – Tweet from Rose McGowan (oddball Leftist, to be sure, but at least she has standing as a real victim) against Alyssa Milano's hypocrisy about Biden:
You are a fraud. This is about holding the media accountable. You go after Trump & Kavanaugh saying Believe Victims, you are a lie. You have always been a lie. The corrupt DNC is in on the smear job of Tara Reade, so are you. SHAME
---
Coronavirus pushes NBA to propose 50% player pay cuts — China has cost the major sports teams and players billions.  I guarantee that the value of franchises will go down permanently.  Who would take the risk for something like this happening again?
Remember when Daryl Morey of the Houston Rockets made some benign comments supporting Hong Kong and the NBA and its players eviscerated him because they didn't want to lose any China money?  Yeah, good times.  Now that China has cost the owners and players billions I wonder if they'll reconsider whether they should have bowed down to an evil Communist government that literally kills dissenters, lies about deadly diseases and deflects blame 24×7.
---
We're gonna need a lot of millstones to clean this up . . .
This Mom Went Undercover on Instagram as an 11-Year-Old Girl to Show How Online Sex Abuse Happens — I can't believe how little most parents monitor their kids' online access.
---
Great points here.  The media "forgets" that the official crimes they were sentenced for were often plea-bargained down from something more serious and often violent.   I've done prison ministry for 13 years and have met countless felons. I'm still waiting to meet one who didn't belong there.  The common denominator is almost always a broken home — brought to you by the Left's policies.
And yes, the rich Leftists won't be impacted by letting these felons out on the streets, but those they claim to care about will be hurt.