China lied, people died, trillions of dollars have been lost.  And yet the Leftist media and politicians still side with China.
Oh, and this: Chinese doctor who attempted to warn others about coronavirus has disappeared
---
Inmates charged with violent crimes getting out on low bond — Brought to you by the Left.  A guy who stole from our company and many others has been arrested 8 times over the last 10 years, and was just released early when they lowered his bond.  Hopefully people remember this and vote these fools out of office.
Timothy Singleton, 21, also has prior convictions. He was charged with aggravated assault with a deadly weapon, after being accused of pulling a gun on his aunt's neighbor. Singleton was granted a $500 bond, which means $50 would get him out of jail. Normally bond would be at least $20,000.

"Some of the cases I saw today, I almost fell off my chair in hysterical laughter," said Andy Kahan, director of victim services and advocacy at Crime Stoppers of Houston. "Ten dollar bonds? One hundred dollar bonds? In some cases, violent felons are getting bonds I've never seen in my 30 years in the criminal justice system."
---
How coronavirus took just weeks to overwhelm Spain — But the feminists just had to get out and celebrate International Womyn's Day.  Typical selfish feminists took a break from killing their children and ended up killing those outside the womb.
---
This was horrible enough as is, but made worse by the fact that they ignored Taiwan's input from December that it involved human-to-human transition.  China lied to the WHO and the world, yet our Leftist politicians and media knowingly support them.
Half a Million Chinese People Entered America at the Height of the Coronavirus Outbreak
This number of people were pouring into the U.S. while the World Health Organization was simultaneously insisting that no country should enforce any kind of border controls to stop the spread of the virus.
---
Emergency Funds Flushed Down PBS, NPR — Sickening.  They should have permanently cut the PBS and NPR funding to zero to help pay for the virus issues.
---
Hardest hit: CNN.
Calif. Gov. GavinNewsom 

"Let me just be candid with you. I'd be lying to you to say that [Trump] hasn't been responsive to our needs. He has. And so, as a question, as a sort of an offer of objectivity, I have to acknowledge that publicly."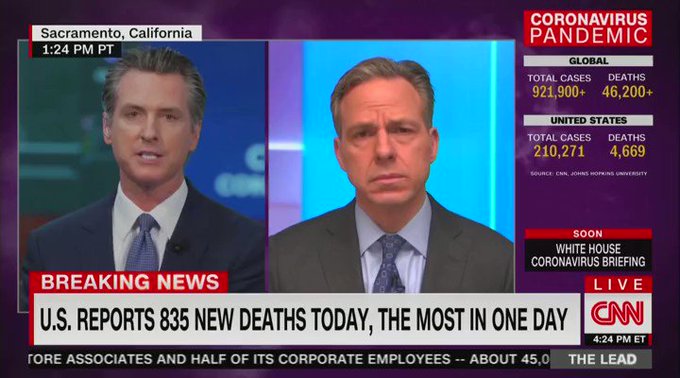 ---
Watch and enjoy.  Obviously Trump's fault.
---
Best of the Bee — Good week!!

New York To Raise Taxes On Coronavirus Causing It To Flee State | The Babylon Bee
Update: 3,000 New Deaths Today But Enough About Abortion | The Babylon Bee
New, Less Formal King Jim Bible Introduced | The Babylon Bee
Deprived Sports Fans Forced To Throw Ball Around With Their Kids | The Babylon Bee
Mike Pence Sad To Announce That Pride Month Is Canceled Due To Coronavirus | The Babylon Bee